Greg Osby on the audience and musicians who play for themselves…
Continuing our dialogue on the audience equation for creative music, which heretofore has focused on the puzzling conundrum of the African American audience, the always thoughtful saxophonist-composer and record label (Inner Circle www.innercirclemusic.com) head Greg Osby weighs in on the audience in general, with a particular emphasis on calling into question musicians who only seem to play for their own self-aggrandizement and that of their peer musicians.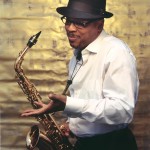 A recent conversation with one of my colleagues was both illuminating and also sad at the same time. My friend, who had just completed a lengthy tour, was lamenting that for the entire duration of the tour, he felt that the audiences just didn't "get him" or were oblivious or apathetic to his mission as an artist. ("They just weren't hearing me, Man.") I attempted to reassure him that we, in improvised music, are often subjected to blank stares and less than ideal responses to much of our proud work that we may have spent a great deal of time developing. Our audience numbers and the amounts of positive feedback are considerably lower than that for other situations that usually have fewer demands on them in terms of sacrifice, intent or pure artistry. This is a fact that we have been conditioned to regard as normal and therefore have accepted.